Built Like A

Made in the U.S.A.
---
Fabricated Steel Tanks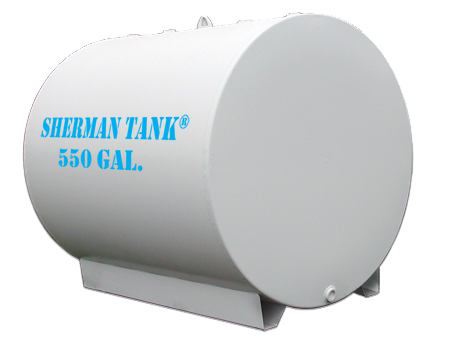 The Sherman Tank® is a fabricated steel tank developed and manufactured by Sioux City Foundry Co. We provide over 100 years of manufacturing experience and precision engineering built into each Sherman Tank® every day. Whether your application is dust control, fire fighting, fuel transportation or fluid recycling, the Sherman Tank® is the preferred choice of purchasing agents. Available direct, the Sherman Tank® costs you less than buying from a distributer.
The Sherman Tank® is utilized from coast to coast in the USA and internationally from Chile to Kuwait. The Sioux City Foundry Company is the exclusive manufacturer of the Sherman Tank® where quality and on-time delivery is tradition. All things considered, the Sherman Tank® is your best value for water or fuel transportation.
We are able to fabricate the Sherman Tank® in a wide variety of capacities and configurations:
Round
Rectangular
Oval
Elliptical
Modified Square
Custom Fabricated Steel Tanks
We can manufacture tanks to meet the following certifications:
API 650 Horizontal and Vertical Storage Tanks
We demonstrate expertise and dedication to quality by producing fabricated steel tanks for a variety of applications, such as:
Fuel Trucks
Utility Vehicles
Stationary Storage
Fire Vehicles
Lube Trucks
Construction Fuel & Water
Options for your Sherman Tank® are limited only by your imagination. We have the expertise and facilities to provide large vertical and horizontal storage solutions that meet API Standard 65 and NACE SP0294 requirements. While we offer custom fabricated tanks, we also have fabricated tanks in a variety of sizes ready to ship.

In addition to storage products and metal fabrication, Sioux City Foundry also offers our customers added value with services that include: Custom Tank Engineering and Design, and Custom Steel Fabrication and Welded Assemblies.
Made in
the U.S.A.
---