Built Like A

Made in the U.S.A.
---
Tank Accessories
Split Tank Compartments
Combination tank can hold water or fuel in separate compartments.
Mounting Kits
Choose from I Beam, Tube, or Channel mounting kits to best fit your needs.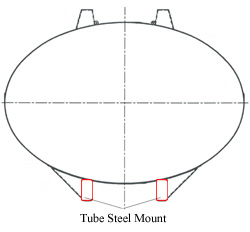 Pipe Fittings
Standard sizes from 1"-3" and includes bungs, couplings, and side gauges.
Vapor Recovery Systems
Prevents vapors from escaping into the atmosphere while transporting fuel.
Spray Bars
Great accessory for watering or dust control purposes.
Ladders
Each ladder is custom built to specifications. They are made from steel tubing and non-slip ladder rungs.
Other Accessories
Custom Painting & Lettering: We will paint your Sherman Tank® according to your color specifications.
Fenders: Custom built fenders to fit your tank and truck.
Catwalks: Custom catwalks can be made to fit each tank and are made from corrugated metal.
Tool Boxes: Tool boxes can be fabricated with your choice of carbon steel, stainless steel or aluminum.
For additional and custom accessories not listed above, or for more information on Sherman Tank® accessories, please call 888-331-0764 or email us at sales@shermantank.biz. Let our qualified sales and engineering team create the right Sherman Tank® to fit your needs.